Say Hello to a Mosquito-Free Summer!
Welcome to Ambush Mosquito Traps, your ultimate solution for enjoying the great outdoors without the annoyance of mosquitoes. With our innovative and effective mosquito control products, you can reclaim your outdoor spaces and make the most of every summer moment.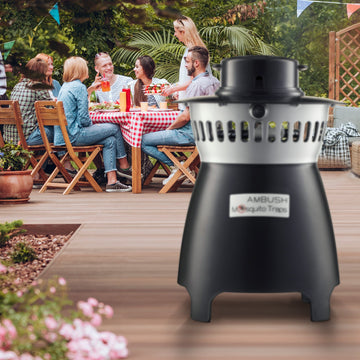 Why Choose Ambush?
Effective Mosquito Control: Our advanced trapping technology targets and captures mosquitoes, ensuring a significant reduction in their population around your home.
Say Goodbye to Bites: By eliminating mosquitoes, Ambush Mosquito Traps help protect you and your family from those itchy and irritating mosquito bites.
Enjoy Outdoor Living: Don't let pesky mosquitoes ruin your outdoor gatherings. With Ambush, you can create a peaceful and enjoyable environment for barbecues, parties, or simply relaxing on your patio.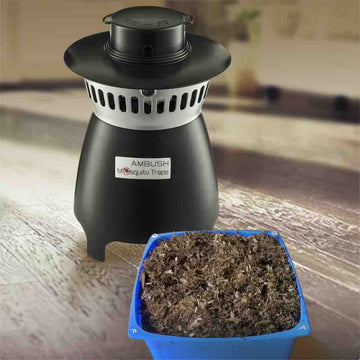 Experience the Ambush Difference
Cutting-Edge Technology: Our trap combines 6 attractants and UV light to lure mosquitoes and trap them effectively, providing you with long-lasting relief.
Easy to Use: Setting up your Ambush Mosquito Trap is a breeze. Just place it in your desired outdoor area, power it on, and let it work its magic.
Low Maintenance: With our hassle-free trap, you can enjoy mosquito control without the need for constant monitoring or expensive chemical treatments.
Safe and Environmentally Friendly: Ambush Mosquito Traps are designed to be environmentally conscious, without the use of harmful chemicals, making them safe for your family, pets, and the planet.
As seen on




Say Hello to Summer Without Mosquitoes!
Take action now and make this summer your best one yet. Say goodbye to swatting, itching, and annoying mosquitoes. Embrace outdoor living with the Ambush Mosquito Trap by your side.Ready to get started? Learn more about our trap and find the perfect mosquito control solution for your needs. Say hello to a mosquito-free summer today!
Let customers speak for us